After completion of chemical engineering, very few people will understand the importance of a process design course. Some of the people will understand its importance after 2 years of struggle in the dream job search. As information is available everywhere, now everyone understands the importance of a process engineering design course. Because of the demand, many training institutes online or offline offer different process engineering courses. Now its became so much challenging for the students and professionals to choose what is the best institute and what is the criteria to select the best place to learn.
There are three ways of acquiring knowledge of process engineering. One is from training institutes, two is from individual freelancers, finally Organizations and companies.
Things to keep in mind
There are three very important things to keep in mind to select the best process engineering design course.
1). Certification
2). Faculty
3). Line of actions
Certification:
Certification is very important when you are attending the interview. If it is not from valid sources, then it is not accepted by the MNC's. Most of the time people will get problems from the Freelancers. It's ok to get certification from training institutes also. But it's always great to get the certificate from the private limited companies. Because private limited companies are authorized to provide a certificate if they are doing the same line of action.
Certification should be a very important aspect as mentioned above. Unique certification ID is very important on the certificate. If the certificate doesn't have a unique certification ID. Then do not go for it.
Other than getting certificates like course completion and training programs. If it is considered to some degree or diploma it is valid around the world.
Faculty:
Make sure that faculty should have more than 10-15 years of experience. And they should do exactly what they are teaching. Check the LinkedIn profiles clearly. Because process engineering knowledge which is available in books is not enough. The faculty experience and their guidance is very very important. And don't go for the recording classes or something like this. Always interact with the trainer live online.
Line of Actions:
The company or the training institute should have the same line of action that they are teaching, Then only the certification is very much valid. And they can teach what exactly happening in the industry. And don't depend on bulk training providing online platforms.
If the company running process consultancy or process-related activities then it's a better place to get the training.
The overall conclusion is it's better to get the degree from the private limited companies which is having the same line of action.
Average Fee
The average fee for the process design course in India is around 40,000 INR – 50,000 INR.
There are some companies with good reputation providing under 30,000 INR
Mini Diploma in India under 30,000/- INR
Aaharya Technologies providing Mini Diploma in process engineering just for 22,999/- INR
It is a private limited company which is having process consultancy as one of the lines of action. And having trainers with more than 15 years' experience.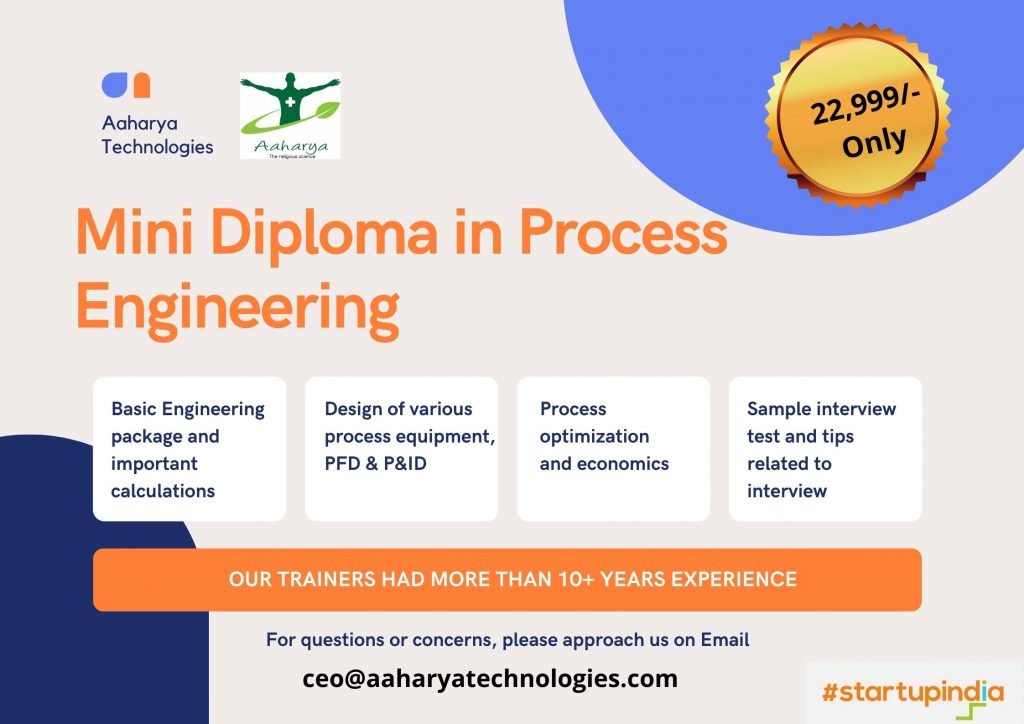 To book the demo and interact with the trainer click on book demo.
I hope this blog is very helpful for you.
Best wishes.